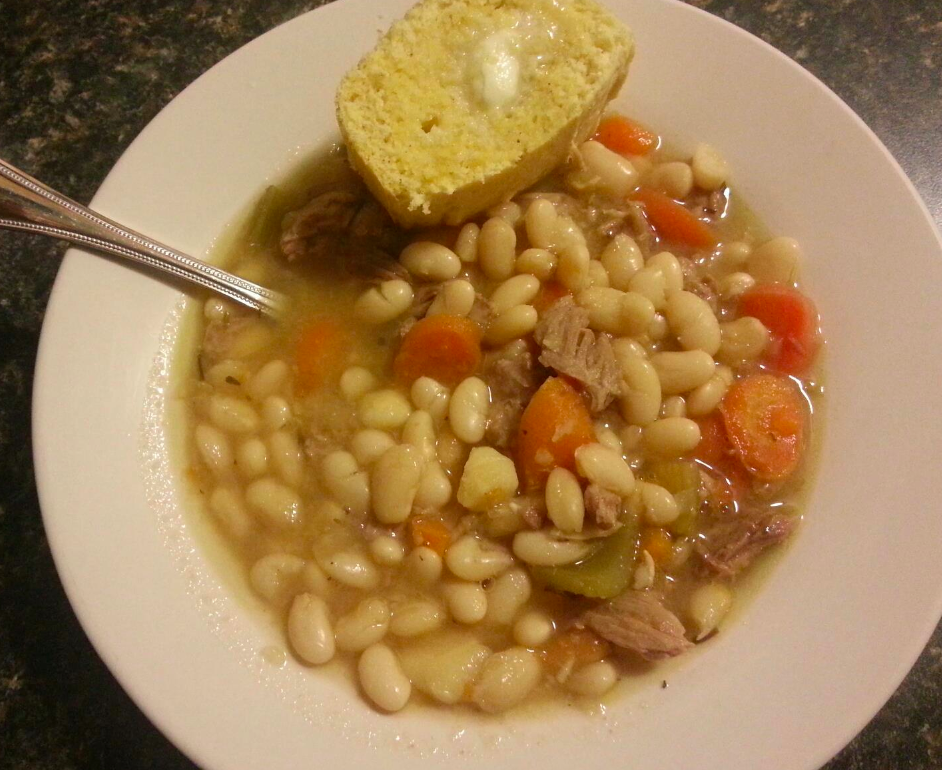 21 Feb

Snow Day Soup is Healthy & Hearty

When I think of snow, I think soup. So, of course I spent our Nebraska snow day in the kitchen cooking up a bowl of tummy-warming homemade soup.
White bean soup with gluten-free cornbread. Snow day deliciousness.
Here's how to start a pot of white bean soup cooking for your family:
Soak a 1 lb bag of white beans, great northern or navy beans in water overnight. In the morning, drain and set aside.
Chop one onion, 6-8 stalks of celery, 5 large carrots, 4 cloves of garlic and 2 turnips. Place in soup pot and saute in 2 Tbsp ghee, butter or oil until onion is translucent.
Add drained beans, 6-8 cups water, 1 heaping Tbsp vegetable bullion, 1 tsp. red pepper flakes, 1 tsp thyme leaves and 1 lb neck bones, smoked ham or turkey bone or ham hock.
Bring to a boil, then cover and simmer for 2-3 hours. Take the bones out, remove all the meat you can and throw bones away (or make your doggie really happy and share). Return meat to soup, adding salt or seasonings to taste. Cook 5 more minutes and serve with gluten-free cornbread (I used Bob's Red Mill — very tasty and easy mix). YUM!